A Journey to the Riau:
Chef Yudi's Story
July 3, 2020
When I first met Yudi, he struck me as an unassuming and quiet man, and it took me a while before I realized that he was Telunas' new sous-chef. It wasn't until I sat down to get to know Yudi some more that I understood why he is such a great addition to the Telunas team.
Yudi was born and raised in Lampung province on the south tip of Sumatra, known for its surfing beaches, snorkeling, and being situated just north of the historic Krakatoa volcano. For Yudi, cooking was an interest that blossomed into a desire to be a professional chef. After receiving a degree from culinary school, he got his first taste of the Food & Beverage world in a large hotel in Jakarta.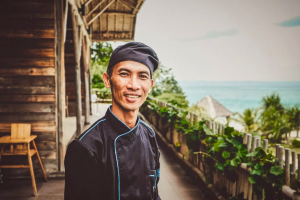 The Maldives
Though his time in Jakarta taught him much, the dream of luxury island resorts was calling his name, and Chef Yudi soon found an opportunity working in the Maldives at a high-end resort. While there, he befriended Surya, a fellow Indonesian chef who had left home in search of experience. Yudi and Surya would spend their time off reminiscing about their home: the spices of Indonesia, the beautiful people and landscapes, and most of all their families they had left behind. Would they ever get the opportunity to fulfill their culinary passions closer to their families and in their beloved homeland?
Telunas Calls Yudi Home
Eventually the two friends parted ways, and Chef Surya discovered an opening for an Executive Chef position at a small resort in the Riau Islands called Telunas Resorts. Only a few years later, Yudi received an invitation from Chef Surya to join him there. Yudi wondered why he would want to work in such a remote area, but he decided to check it out. On his first visit, Yudi immediately fell in love with Telunas. Somehow he could feel a peace in that place and the joy of the staff. He only had one question for Chef Surya: "When do I start working?"
"I've never worked at a place like Telunas!"
Shortly after his arrival, I found myself sitting in the Grand Lodge of Telunas Private Island across from Chef Yudi, our new sous-chef.
"I've worked for many years in the Food and Beverage hotel industry, and I've received training from the best companies. But I've never worked at a place like Telunas!" Yudi shared, with a look of incredulity and curiosity in his eyes.
Yudi explained that he and a handful of other staff had just attended a training with one of our managers. Though he had expected it to be a professional training for his job, he discovered it encompassed much more – including topics not only focused on how to truly care for the people on his team, but also about how to be a good spouse and how to be a loving parent. The next week, Yudi enjoyed a private coaching session with Telunas Director Idaman Laoli, with whom he processed his life dreams and aspirations, his family connections, and how Telunas could help him to continue developing.
"I just am so happy to work for a company that cares about me," expressed my new friend, Yudi. Even as he spoke, I also personally resonated with the privilege of getting to work in such a great environment, where my personal development is such a high priority of my team.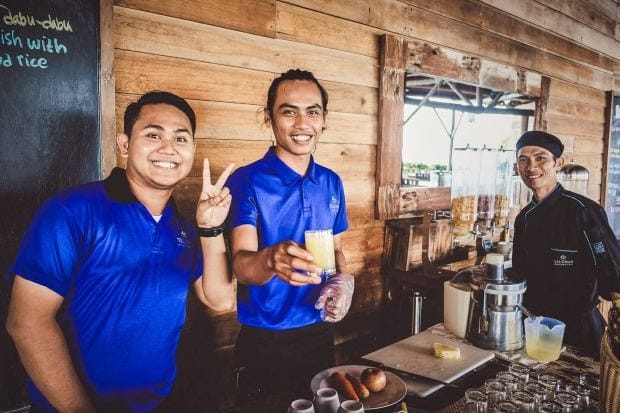 Though Telunas is currently temporarily closed to guests due to Covid-19, our staff is still working hard to make preparations for guest arrivals in the near future. And that's where you'll find Chef Yudi… cooking up some delicious meals for those hard at work.
"Working at Telunas is a gift for me. I will do my best to serve guests and serve people all around me." – Yudi