One Night and Three Hours of Spa Services
Your one night stay will include three hours of indulgence that includes:
60 minute body massage
60 minute skin restoration
30 minute body scrub
30 minute body mask
---
The Ultimate Way to Relax
The soundtrack for your upcoming Spa-cation is the water lapping gently on the beach below the overwater spa. A traditional bungalow placed on stilts over the ocean is the setting for your private treatment. As the sun sets to the west, the water becomes a mural of blue, teal, pink, orange and purple, mirroring the colors in the sky. It is the perfect place to unwind, breathe deep, and let go of time and responsibilities.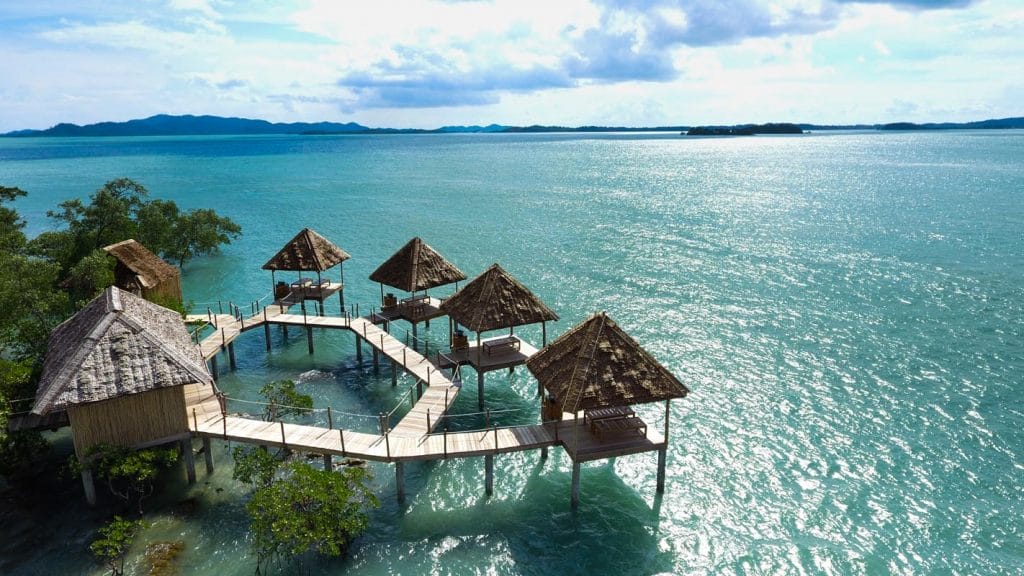 Overwater Spa
A Telunas Spa-cation is more than just a spa experience and it's more than just a vacation. It's a getaway that will leave you refreshed, rejuvenated, and relaxed.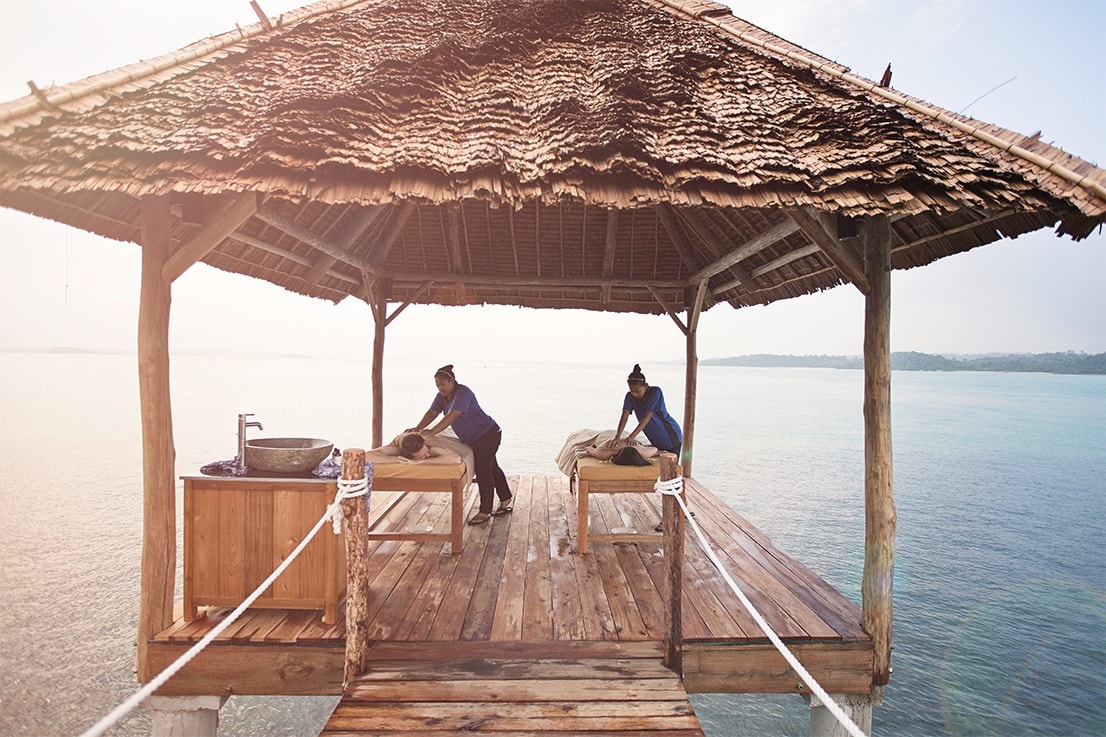 No Flight Needed
Your Spa-cation starts once you hop on the Telunas boat transfer from Batam. You'll be provided with a Customer Engagement Expert (a personal guide) that makes sure everything you need is taken care of. The boat ride to Telunas is the beginning of unwinding. The trip through the Riau Islands is beautiful and the sea air is refreshing. On the way there, you will pass traditional island villages, fisherman and breathtaking scenery.
When you arrive at Telunas Private Island, you'll be ready for a delicious lunch, made up of local and western cuisine. You'll enjoy ocean views from the dining deck, (while your luggage is whisked to your private villa).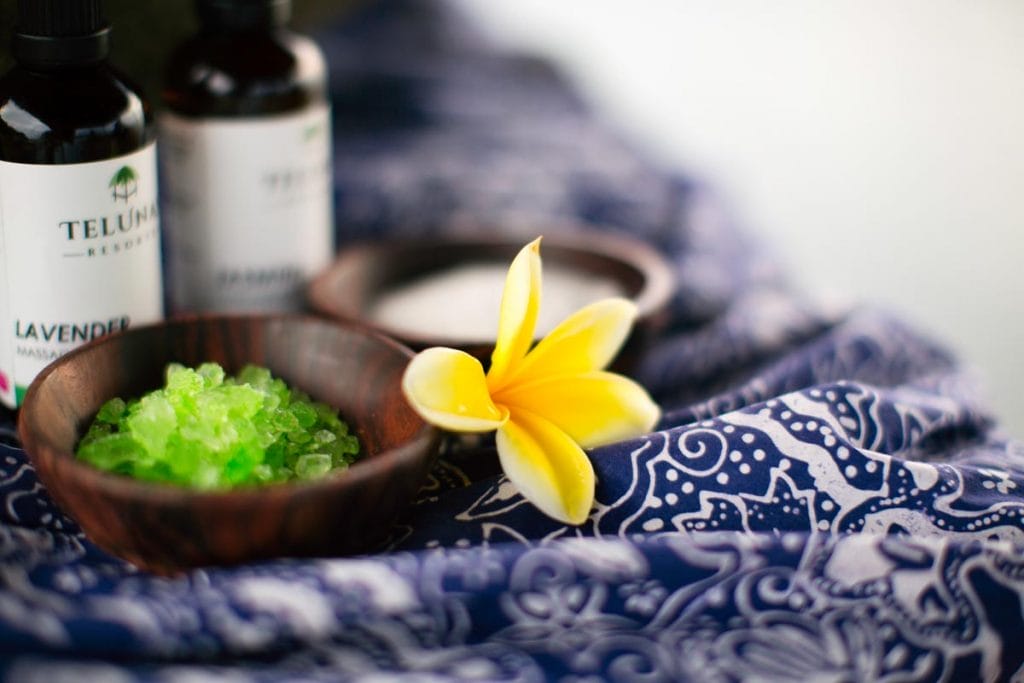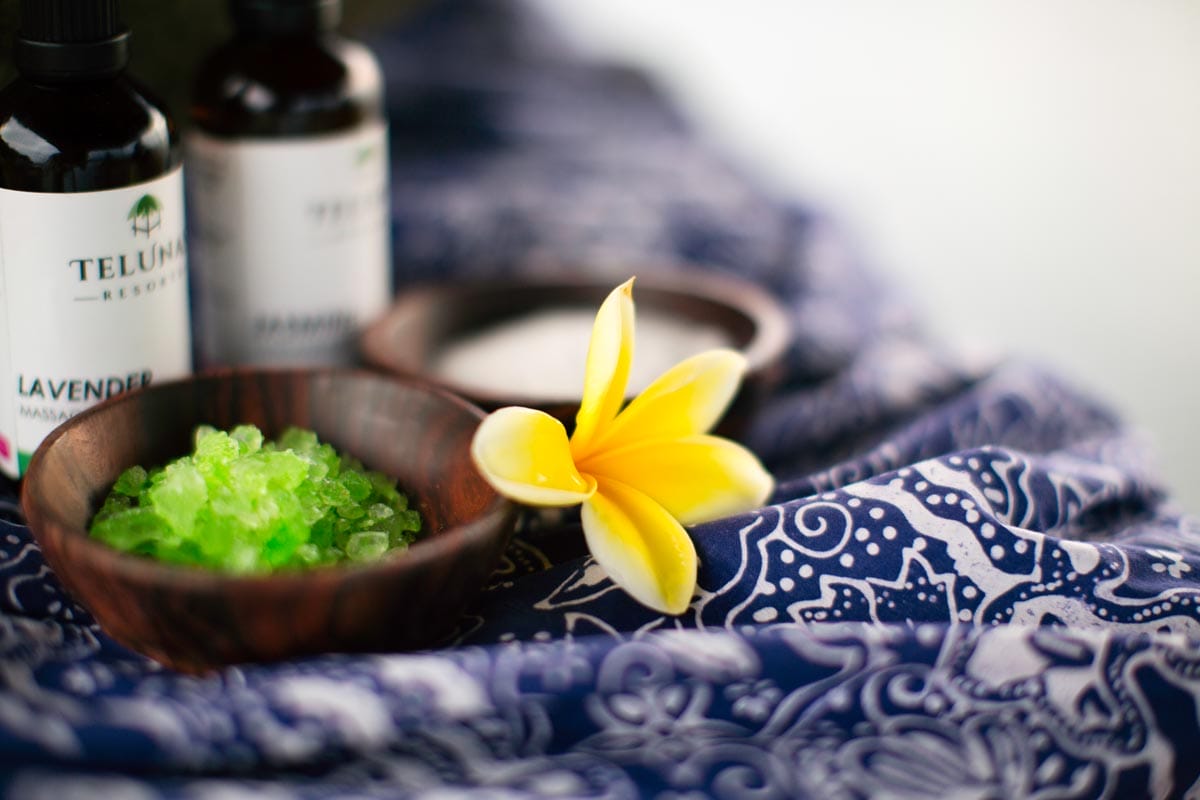 New Level of Well Being
Following lunch, your indulgent spa services begin. The Telunas staff will arrange your spa time that includes a 60-minute body massage, a 60-minute skin restoration, a 30-minute body scrub, and a 30-minute body mask.
You are welcomed at the spa and provided with a traditional batik robe and slippers. Scented oils and products will provide a calming aromatic atmosphere. Our professional staff is passionate about providing services that combine the spectacular beauty of the overwater setting with new levels of well-being. You can rest assured that you are in good hands.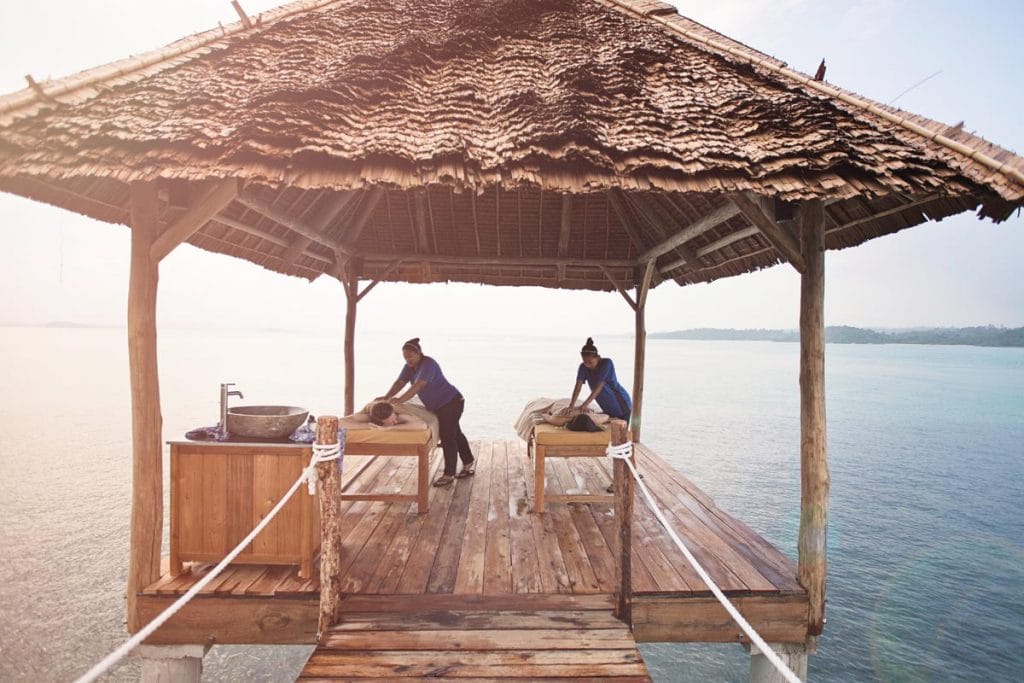 Relax and Renew
Our body massages help you transition to island life while renewing and rejuvenating your body. Our skin restoration treatment is a specially designed deep cleansing, balancing, and purifying facial. Your therapist will gently massage your face utilizing honey, known for its natural health properties. Afterwards, a milk mask is applied to moisten the skin. Following the restoration, you will be pampered by a salt body scrub and a milk body mask. These treatments revitalize and hydrate your skin, leaving you with a beautiful island glow.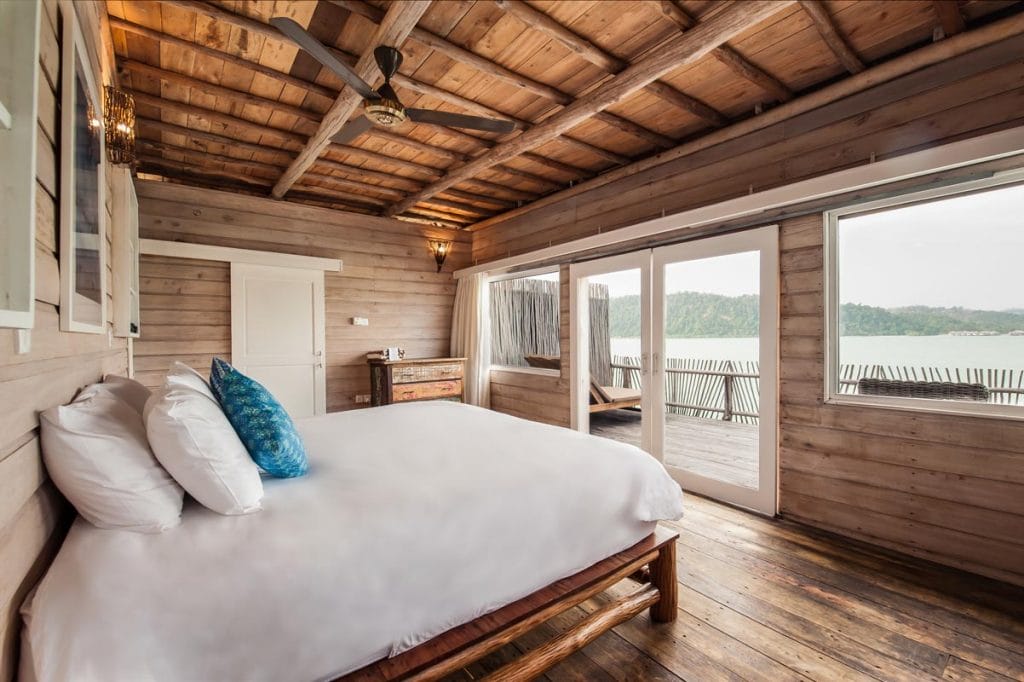 Choose Where You Will Relax
After your spa time, relax on the deck of your villa…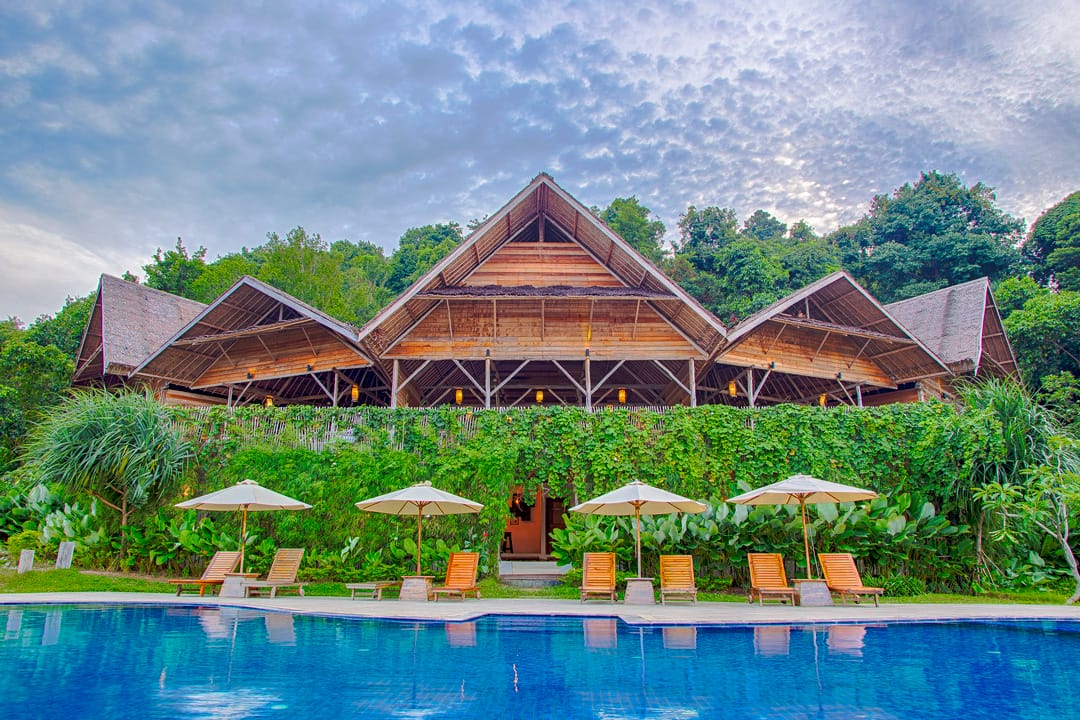 Lots To Do . . . Or Do Nothing At All
Or enjoy the infinity pool, hammocks, lounge chairs, and other private island amenities. Kayaks and stand-up paddle boards are provided free of charge, and the beach has comfortable lounge chairs ready and waiting.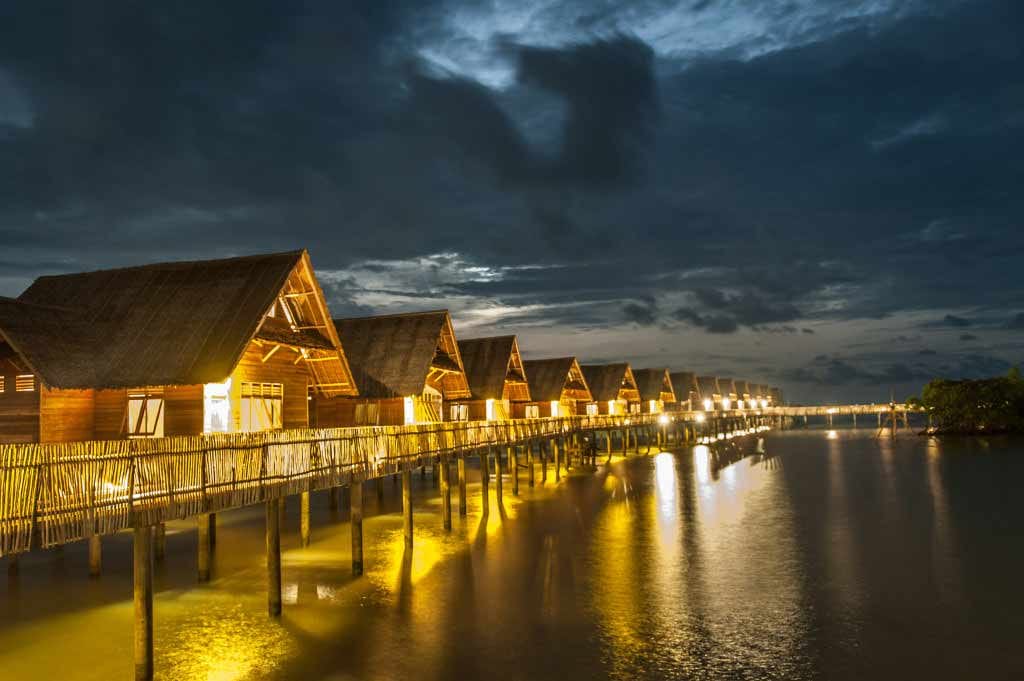 Starry Nights
Lit pathways make a nighttime walk enjoyable and stargazing is a must. When you feel ready to retire, your private over-water villa awaits. The large glass doors leading out to your private balcony can be opened wide, letting in the sea air.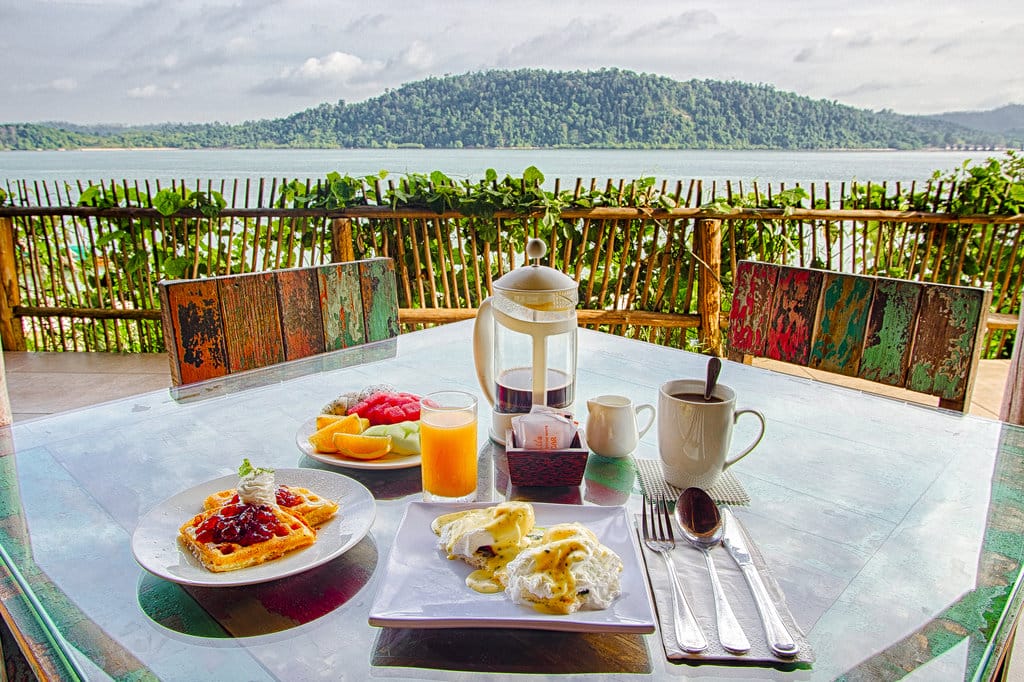 Breakfast is Served
The following morning, after a good night's sleep and some well-deserved rest, breakfast is served on the dining deck. Eggs Benedict, waffles, french toast, fruit and more are provided. Fine French press coffee and juices are also available.
After breakfast, stop by the Telunas gift shop, which offers many beautiful, handmade crafts from local entrepreneurs. Hand-crafted mugs, bowls, and other pottery are available for purchase to help support local artists.  And you can take a little piece of paradise with you, by purchasing a Telunas hammock to set up at home.
---
Hope to see you soon!
The trip back to the ferry terminal is another easy, breezy ride. Upon arrival, your Telunas guide will help you catch the ferry back to Singapore or a taxi into Batam. 
About the author: Marisa Ranney graduated with a Bachelor's degree in English Literature and Creative Writing from Carthage College. She enjoys traveling and experiencing other cultures. She likes to write about the wonderful times she has had at Telunas Resorts.