Safety During Your Stay
CHSE Certification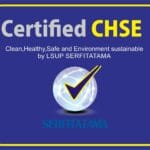 The Ministry of Tourism in Indonesia has given Telunas Resorts the CHSE certification. CHSE stands for Clean | Healthy | Safety | Environment.
The Ministry of Tourism ensures consistency in the implementation of standard health protocols in the tourism sector, especially for hotels.
The assessment process is based on a list of 81 sanitation and hygiene standard requirements, from the Indonesian Ministry of Tourism and Creative Economy.
The requirements that need to be met for this certification include handling safety and security, management of food sanitation, appeal for COVID-19 prevention, body inspection mechanisms, and guest travel history.