Planning a Family Holiday?
You don't have to look too far for a great family-friendly destination near Singapore. At Telunas Private Island you'll discover starry nights, total seclusion, a great kids program, and a beach of powdery white sand, along with a thoughtful and beneficial partnership with the local community – and all of this just 50km from Singapore.
This one-of-a-kind getaway is accessible by water from Singapore. This speck in Indonesia's sleepy Riau Island archipelago is reached via an easy four-hour journey – with no need to set foot in Changi Airport.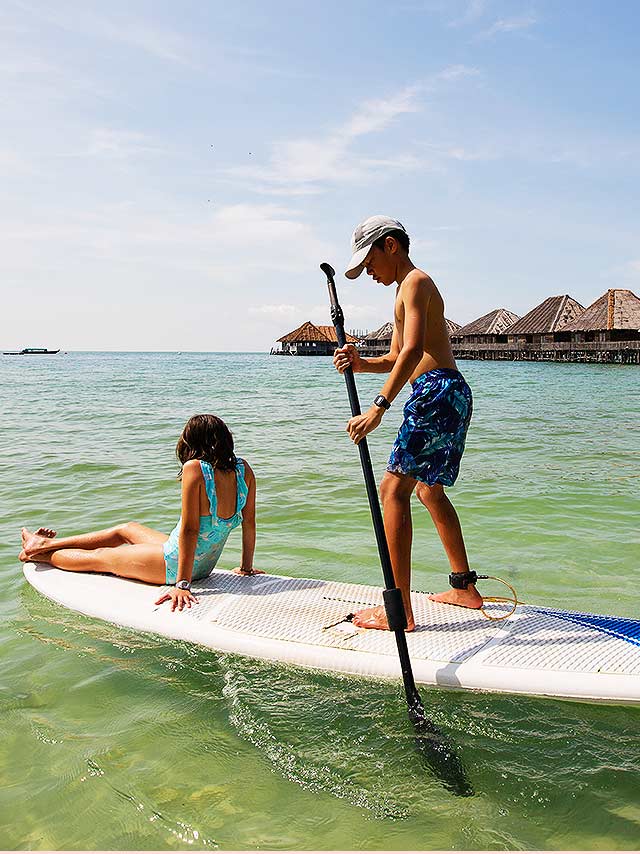 Kids More-Than Welcome
Telunas Resorts loves kids and you will feel it from the moment you arrive. After disembarking from the resort's private boat and receiving a friendly welcome at the jetty, you will be escorted to the restaurant for a leisurely lunch. There's deliberately no formal check-in, in keeping with the laid-back vibe of the resort. And with up to 40 guests on the Private Island at one time, it's never, ever crowded.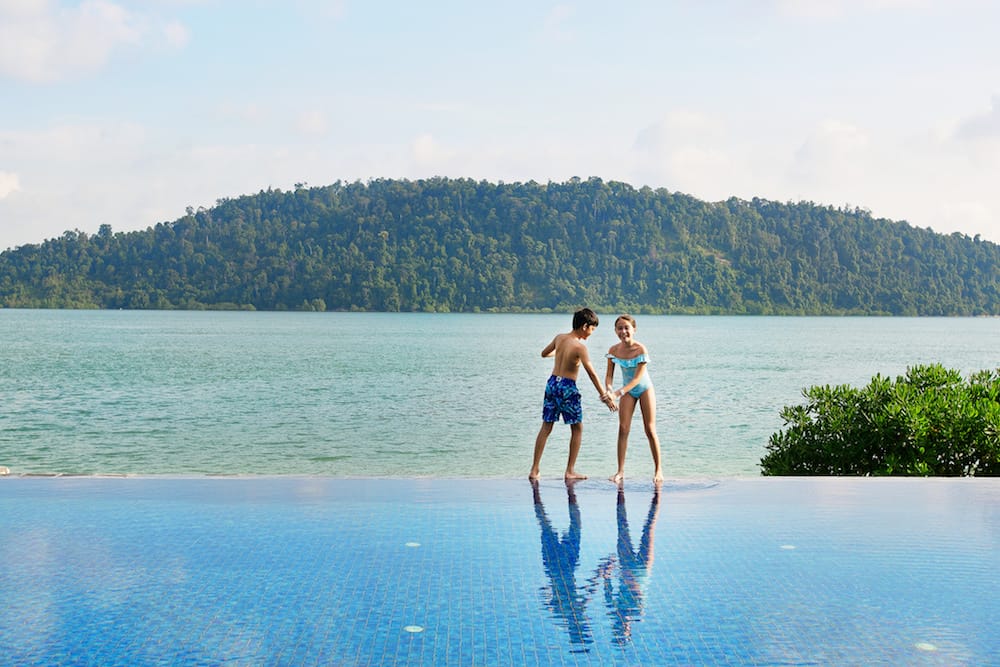 Your Private Villa – Perfect for the Family
At Telunas Private Island each of the 15 over-water villas has five distinct spaces: living room, king bedroom, bathroom, balcony, and a loft sleeping area accessible by a ladder.
The villas sleep up to five people and are furnished in a beach feel including colorful cushions, local handicrafts and furniture made from upcycled boats create an instant "at home" feeling. Villas are also equipped with a hot and cold water fountain, tea and coffee supplies, in-house toiletries, beach towels and umbrellas. Spend some time stargazing on the balcony after dinner – it's a rare treat!
Master Suite with Private Balcony for Mom and Dad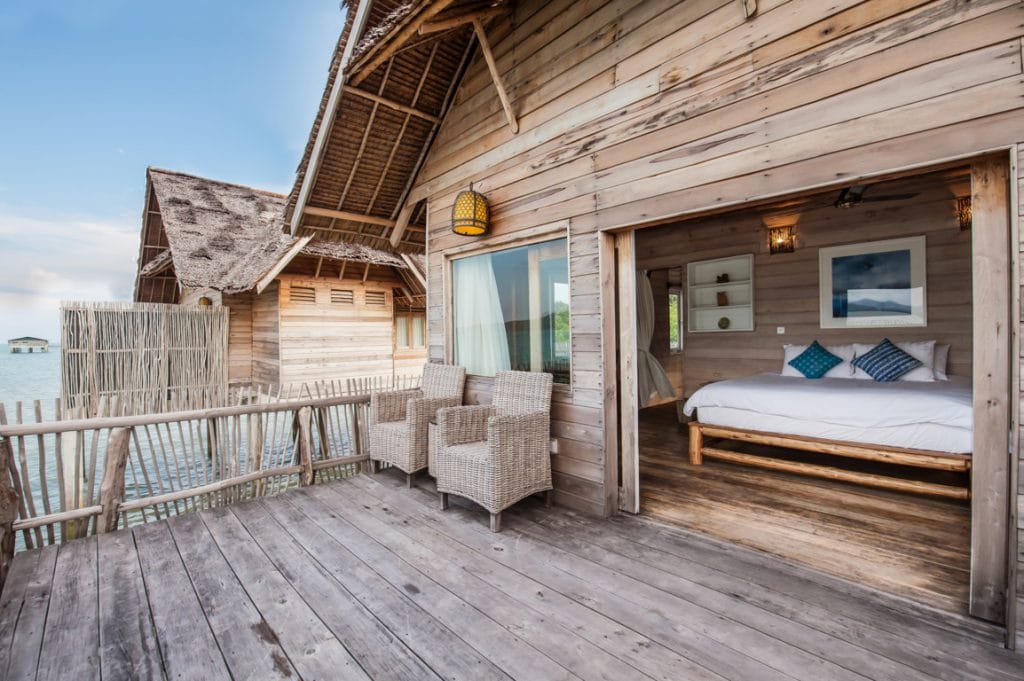 Ladder to the Loft for the Kids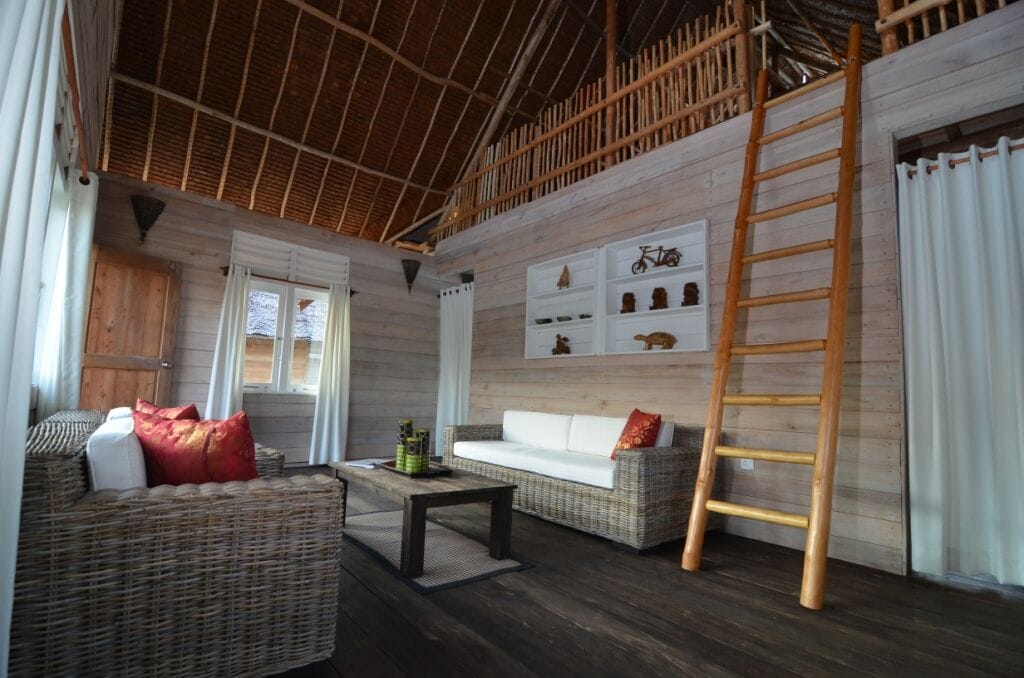 Twin Beds in the Loft for Kids
The children's loft is charming, like a treehouse within the villa!
   

Yummy Eats
Meals are served in the enormous open-air restaurant at Telunas Private Island and the daily menu is written on simple blackboards.
Kids Menu. The kids menu is packed with healthy choices like pasta, and grilled chicken with coleslaw. A selection of fruit and snacks is available between meals.
Enjoy the honesty bar, where guests can purchase sodas for the kids or a beer for mom and dad – or bring your own alcohol (a corkage fee applies). The Sand Bar serves drinks and snacks; where adults can savor a couple of well-earned margaritas by the pool while the kids enjoy hermit crab races on the beach at sunset.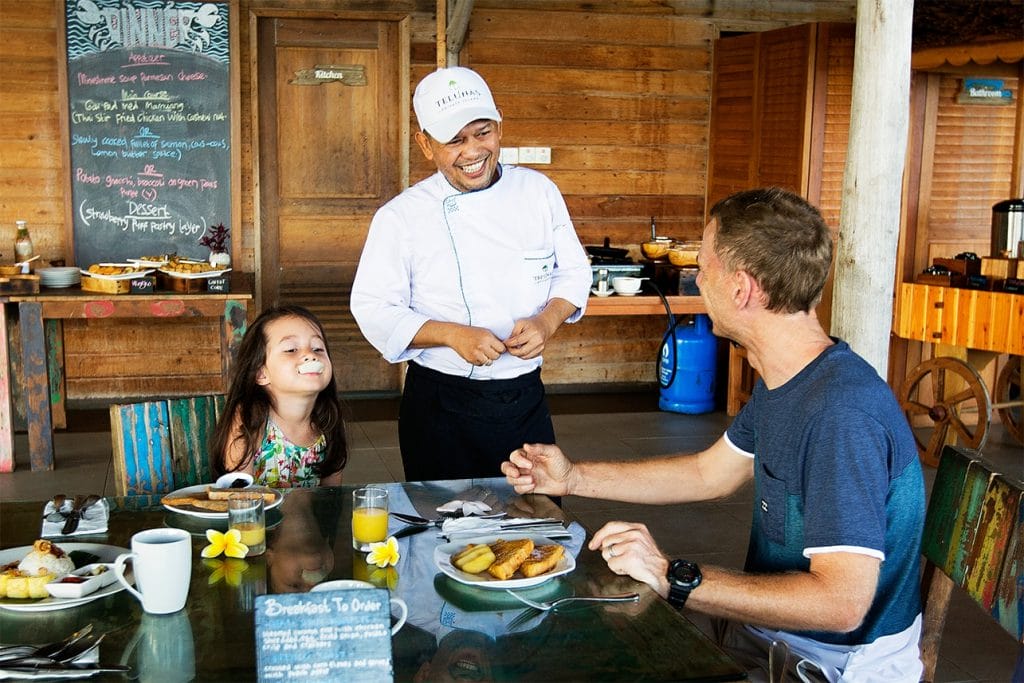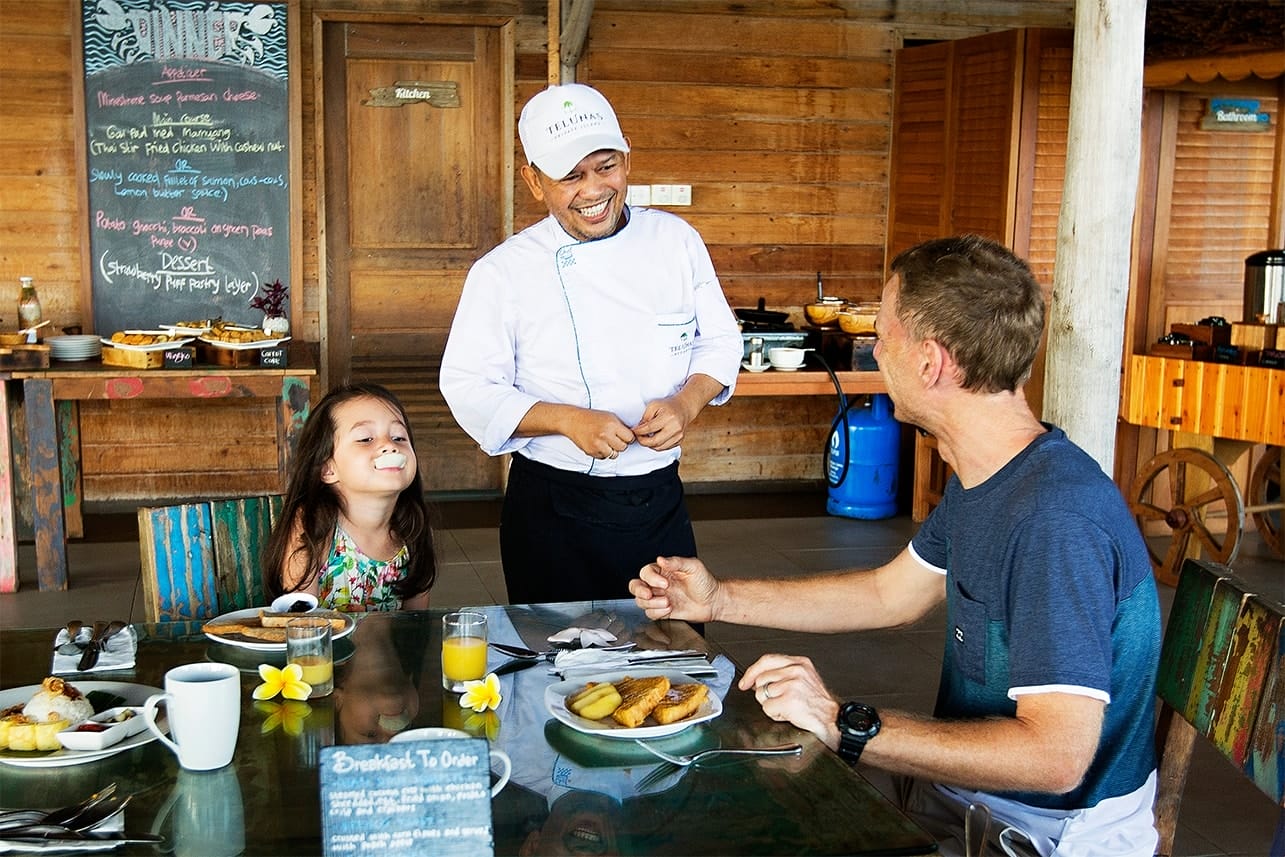 Kids Club
Hours of Fun. The resort's complimentary Kampung Kids Club at Telunas Private Island offers younger children enough distractions to keep them having a blast for several hours every day: fishing, local crafts such as weaving, and evening movies are offered under the watchful gaze of the friendly staff. Older kids and adults can enjoy other complimentary activities: a low ropes course at the neighboring resort, river kayaking through the mangroves, a village tour, a cooking demonstration, standup paddle boarding and kayaking. If that all sounds too energetic, just curl up with a book.
While your children are at the Kids Club.  Book a massage at our overwater spa. It's a heavenly spot to settle for an afternoon, especially when you know the children are taken care of.
Ages: 5 and12 years old*
Hours: Kids Club is offered daily from 9am to 11:30am and 2:30pm until 5pm.
*If kids are under 5 years old, acceptance depends on the number of children in the Kids Club that day and the number of staff on duty.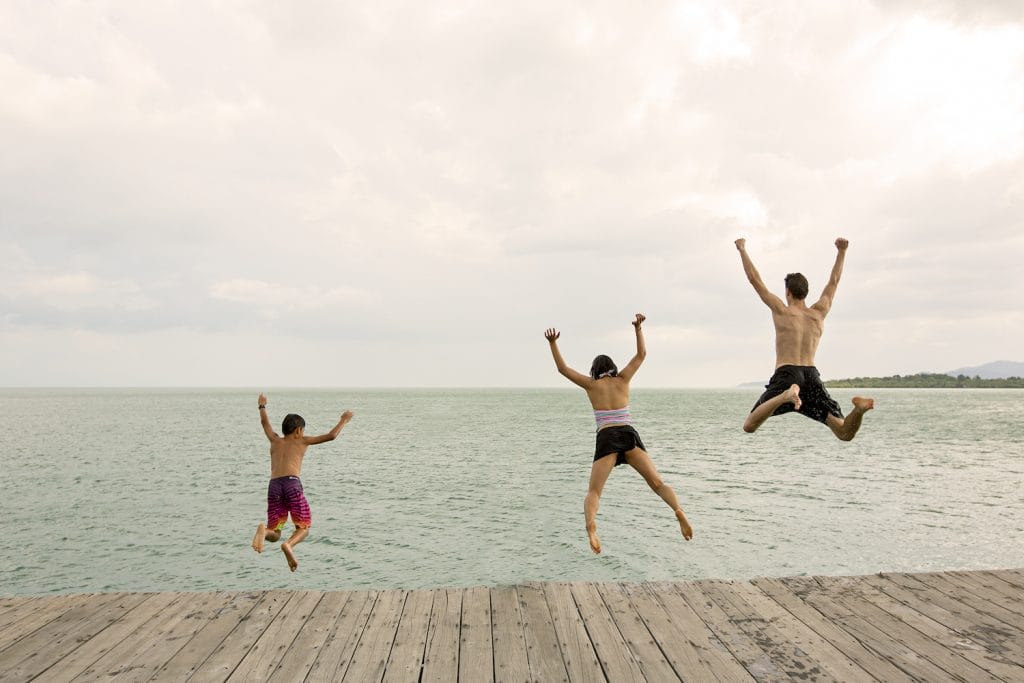 The Perfect Getaway for the Entire Family
Telunas is the perfect escape from the day-to-day city grind. Families benefit from their stay in different ways. The simple experience of fishing with a hand-line or jumping countless times off the jetty creates memories that will last a lifetime. And without Wi-Fi, you'll relax and have lots more conversation and connection – things that are often impossible in the busy lives we lead.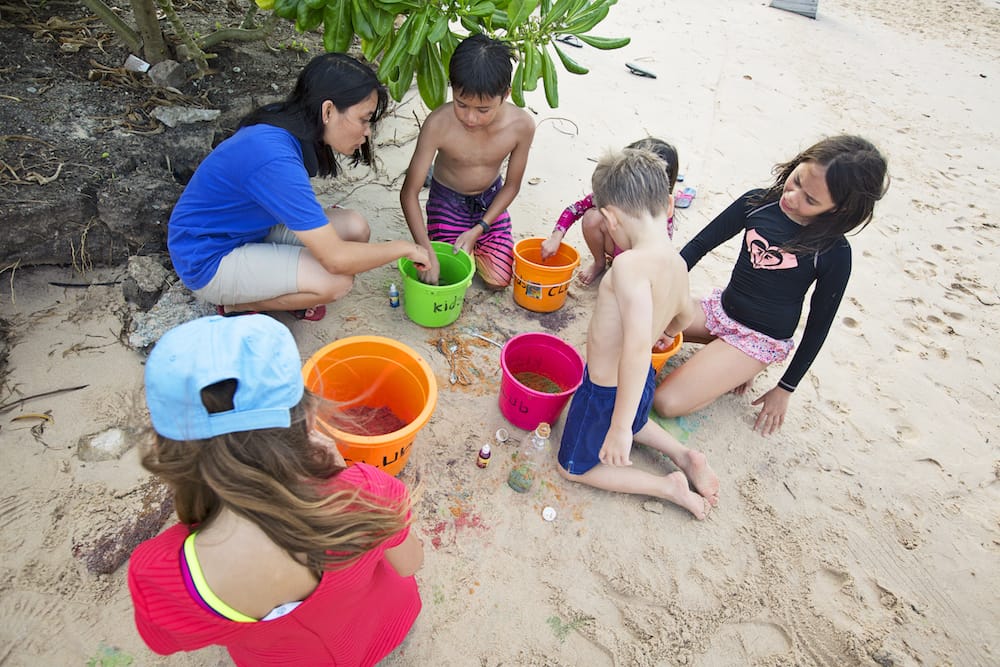 Have a Blast!
There are so many activities to choose from!
Sea Kayaking
Stand Up Paddleboard
Jungle Waterfall Hike
Raft Building*
Volleyball
Ping Pong
Beach Games
Low Ropes Course
Shrimping*
Traditional Fishing
Traditional Drumming (Kompang)
Jetty Jumping
Island Tour
Traditional Melayu Drum Lessons
Pottery Lessons
Note: *Some activities have an additional cost.