An Idyllic Retreat
By Lee Ranney
I have been blessed with a sense of adventure and a love of travel so when I learned about Telunas Private Island Resort, I knew I had to make the trip. Am I glad I did!
My adventure began when my daughter and I boarded the Telunas ferry at Sekupang Ferry Terminal in Batam, Indonesia. During the 90-minute boat ride, we were treated to sights like One Tree Island – a tree growing out of the water with no land visible (at least when we went past), and a small Chinese temple on top of a hill on an island.
When we arrived at the island, we were greeted by the resort staff with a refreshing drink and taken directly to our table for lunch. The food at Telunas rivals that of other high-end resorts in quality, quantity, and presentation. 
Side note: I learned quickly that it was best to show up for meals hungry as there was plenty to eat. If you are a light eater, they will prepare a half portion of your chosen menu item so nothing goes to waste.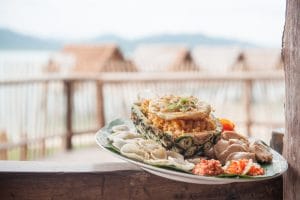 At lunch and dinner, there were three menu choices – seafood, poultry or beef, and vegetarian. And their desserts provided the perfect complement to the meal. Cheesecake, chocolate, and fruit were among the treats we enjoyed. Breakfast featured made-to-order eggs, including omelets and Eggs Benedict, fruit, cereal, juice, coffee or tea and a selection of bread and pastries.
But there's more than great food at Telunas! After lunch, we were greeted by Roland, our personal Customer Engagement Expert. He shared information about the resort and the variety of activities and amenities available to us during our stay. Roland was available to answer any questions and arrange details of excursions we enjoyed during our stay.
After Roland's brief but thorough introduction to Telunas, he led us to our villa which sits out over the water and has a fantastic view of the ocean and surrounding islands. The villa featured a king-size bed in a room with french doors that opened onto a balcony. I must confess I slept with the doors open a couple of nights. There was a lovely breeze that kept the bugs away and made for a very peaceful night's rest.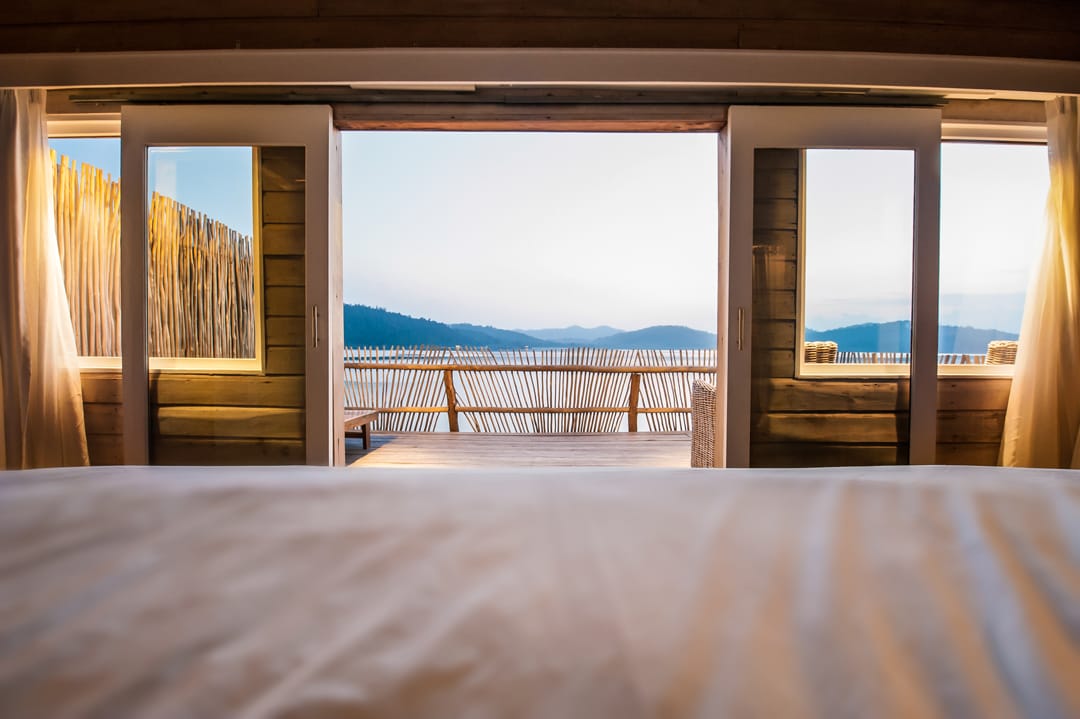 Each day Telunas staff offered an included activity like fishing or an excursion to a nearby island village where guests could see a typical village and explore a local market. There were also activities for children each day so mom and dad could enjoy just laying in a hammock and enjoy the scenery, read a book, or take a nap for a while. There is also an infinity pool where I could relax in the water.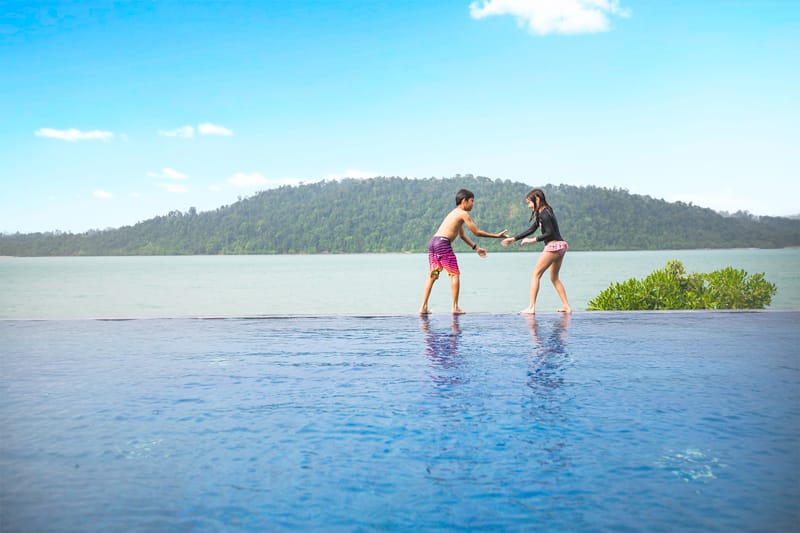 Indulging my adventurous nature, my daughter and I signed up for an optional Malay lunch, which gave me the opportunity to interact with some villagers and enjoy traditional Indonesian food in their home. One of the staff served as our guide and translator for this excursion. We took a ferry to a village nearby and walked through the village to the home of our hosts.
With the help of our guide, we were able to get to know the family and learn about their life. We learned that their primary source of income was the small grove of rubber trees growing just off their porch. They tapped the trees to harvest the rubber and sell it. 
The lunch they served was delicious. The wife had prepared shrimp, crabs, beef and vegetables and they kept serving us until we could eat no more. It was a wonderful afternoon and an experience I will always cherish.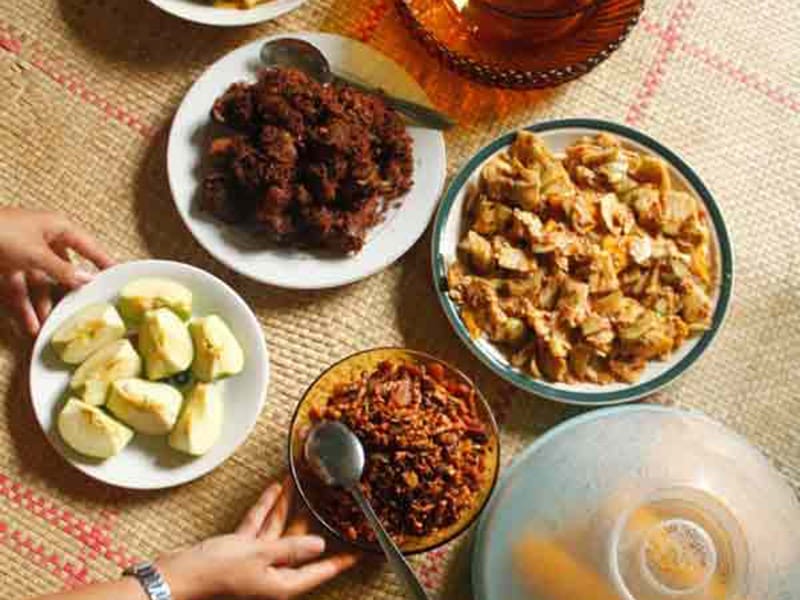 Another high-value option Telunas offers is a massage at their spa which sits apart from the villas but is also built over the water. My massage was scheduled for late afternoon so I could enjoy the sunset. However, the massage was so relaxing that I fell asleep and awoke in the dark. I would highly recommend adding a massage or two when you go!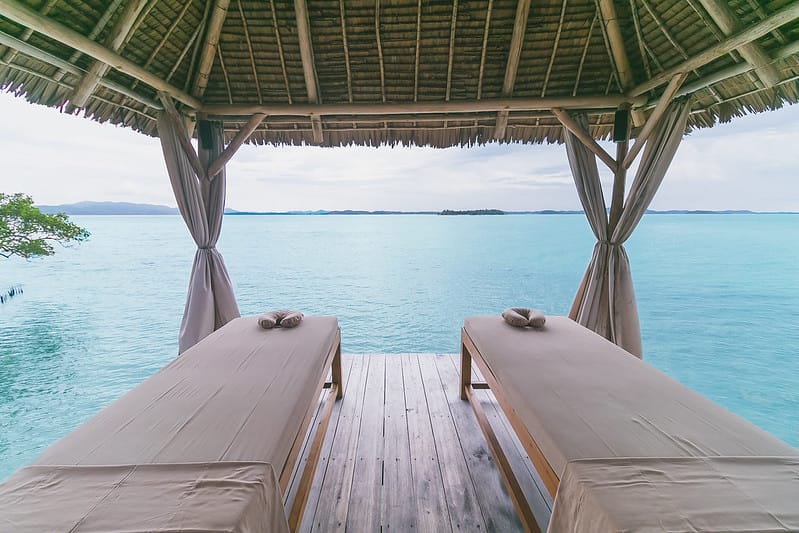 Almost before I knew it, my stay at Telunas Resort came to an end but I made sure to stop by the gift shop to take home some gifts for friends and family. The gift shop features many items made by local islanders that meet the Telunas staff's high standards for quality, so my purchases helped to directly support the local economy.
As I began my journey home to Minnesota, my mind (and my phone) were filled with images of my time at Telunas. It's a journey I would love to make again!
If you want a vacation that is both relaxing and an adventure, I would highly recommend Telunas Private Island!